As some families have been reeling from COVID, many people still need our help. We have been connecting with diverse communities and finding resources to establish an effective way to assist them. Furthermore, we have been organizing fundraisers, participating in community events to support outreach efforts progressively, and working with local organizations to help refugees and others in need.
We need your continued support to sustain the programs offered by FAITH and to increase the capacity in which we help those in need.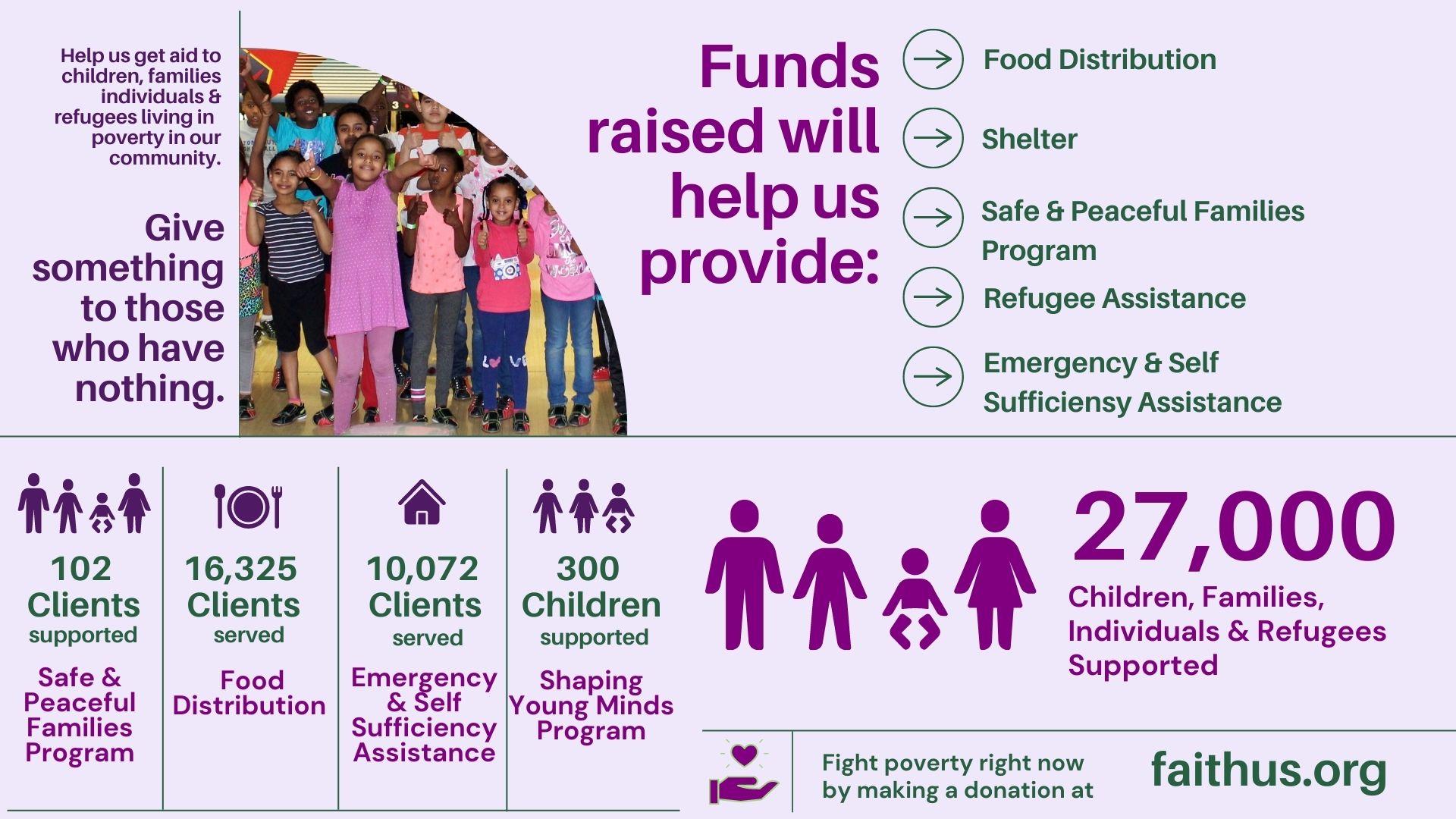 Safe & Peaceful Families Program – This year, we focused on the children of domestic violence. This brought inspiration and awareness to the community about this critical issue. (102 Clients Supported)

Food Distribution – We organized a few distributions, the annual Herndon without Hunger and 3 Elementary School for students who are part of the Free Lunch program. (16,325 Clients Served)

Refugee Assistant – Assist individuals & families with Rent, ESL, Job Training and Medical Appointments and getting them to become self-sufficient. (100 Individuals Supported)

Shaping Young Minds (Children's Programs) – "Into the Future" Motivational Event, Reptiles Alive Program, and Story-Time Book Club Events and other field trips. All these events help motivate, inspire and enrich the children of FAITH clients. (300 Children Supported)

Emergency & Self Sufficiency Assistance – Immediate assistance for anyone who qualifies for shelter, food, medical, clothing and general household needs. (10,072 Clients Served)
Our Year-End Goal is to acquire a minimum of $200,000 by 31st of December, 2022.
These funds will help us in continuing the daily services we provide.
Zakat & Sadaqah – We accept and use Zakat* and Sadaqah* money to support local low-income families with healthcare, education, transportation and other necessities. The ultimate goal is to create self-sufficiency.
Please consider donating to these or any other program we serve as a year-end tax deduction. Use the pledge form and self-addressed envelope. Kindly consider giving $50, $100, $250, $500, or more.
FAITH's Holistic Approach to
Support Individuals and Families
100% of overhead costs are supported by grants and endowments
and never charged against donations.
Related Posts
If you enjoy reading this, then please explore our other articles below: